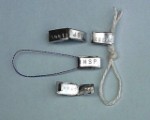 Manual security seal, used in combination with twisted pearl wire or safety-cord.
Easy to use, extremely price competitive.
Tamperproof; equipped with a secured zone, guaranteeing single use.
Embossed sequential alpha-numeric numbering available.
Embossed company name or logo possible on both sides.
Fixed codes on one or both sides.
100 % pure ALU: no oxidation
Available in mill finish or coloured material at your choice.
Standard packaging:
1000 pcs/box
Dimensions:
20.5 cm x 15.5cm x 11cm
Weight:
640 grams
Alternative packaging is possible on request.
Twisted pearl wire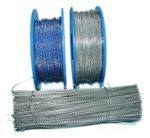 Twisted pearl wire is available in different material combinations:
galvanized wires
Plastic polyamide core wire in white or blue colour. Protected by twisted galvanized wire.
Offered in reels, or pre-cut bundles of 1000 pcs with the following lengths:
100mm
200mm
300mm
Other dimensions on request.
Used in combination with the following security seals:
NIROSTA®

security seal

ROLLIP®

security seal

Safe-plomb®

security seal