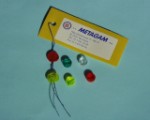 Plastic security seal, made from non-toxic material, resistant to high temperatures ( > 100°c)
Used in combination with twisted pearl wire and Safe-Plomb® pliers.
Diameter: 10mm
Perfect replacement of lead material: Non-toxic plastic and colour additives, FDA approved
Price competitive: cheaper than lead
Light weight, UV-resistant, crack-resistant & impact resistant at low and high temperatures.
Available in transparent colours for enhanced security: wires remain visible trough the seal.
Also available in non-transparent colours
Pre-assembled lead-seals + wire of choice possible (Photo)
| | |
| --- | --- |
| Standard packaging: | 1000 pcs/bag |
| Diameter: | 10mm |
| Weight: | 350 grams |
Used in Combination with different sizes of the Safe-Plomb® pliers and safety wire.
Available in 2 sizes, including personalized punches on one or both sides of the pliers with:
Codes or names
Company logo
Twisted pearl wire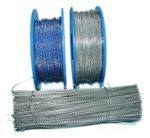 Twisted pearl wire is available in different material combinations:
galvanized wires
Plastic polyamide core wire in white or blue colour. Protected by twisted galvanized wire.
Offered in reels, or pre-cut bundles of 1000 pcs with the following lengths:
100mm
200mm
300mm
Other dimensions on request.
Used in combination with the following security seals:
NIROSTA®

security seal

ROLLIP®

security seal

Safe-plomb®

security seal
Safe-Plomb® Pliers